Current exhibitions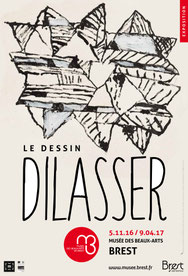 Dilasser, Drawing
5 November 2016 – 9 April 2017
François Dilasser (1926-2012) lived and worked in Lesneven and Brignogan, in Finisterre. Self-taught, he decided to devote himself exclusively to his art in the 1970s. Well-known as a painter, he nevertheless continued to draw in pencil, ink, acrylic or even with a screwdriver.
While the museum has no fewer than seven paintings acquired thanks to the generosity of the artist and his family, this exhibition aims to pay tribute to a less well-known aspect of his art: his drawings.
Fascinated by the expressive possibilities of graphic art, François Dilasser fully embraced drawing as an art in its own right, a fundamental element of his artistic production. Motivated by a subtle quest for the harmony of signs, forms and colours, his drawings are also characterised by an exploration into the construction and organisation of space. Considered as the supreme art form, Dilasser's drawing is not reduced to mere studies. On the contrary he regards it as an end in itself, suitable for creating a unique repertoire of series of forms.
Through a selection of one hundred previously unseen drawings, the exhibition offers the visitor an opportunity to go right to the heart of François Dilasser's creative process. It is presented in an unusual way by Alain L'Hostis, architect, and the workshops of Brest Métropole.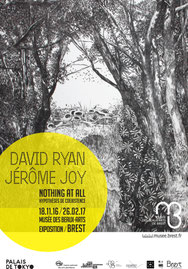 Nothing at all
Hypothèses de coexistence
18 November 2016 – 26 February 2017
In Nothing At All, Hypotheses of Coexistence, David Ryan and Jérôme Joy attempt to construct spaces stripped of all constraints, where everyone is in the world, free to live and test out his or her own choices.
Jérôme Joy (born in 1961) is a composer and musician active on the international experimental and improvised music scene. David Ryan (born in 1960) is developing a visual approach using drawing and video, and personifying, since 2009, the character of the clover hunter. The installation that they are developing together in the Artothèque Gallery and in the museum's main gallery combines video, a new sound and musical creation and drawings, some of which will be produced in situ. Based on the narrative of the clover hunter's life – with selections of real or imaginary facts – this artistic project explores the different levels of the present, involving the notion of commitment and coexistence, limitations and thresholds. The artists thus propose a poetic and committed work linked to life, its joys and its blows.
This exhibition was co-produced with the Palais de Tokyo in Paris, where it was presented from 23 June to 11 September 2016. It is a follow up to a research project that benefited from the support of the Centre National des Arts Plastiques (Support for a research project / production, 2015) and also the support of Le Quartier, contemporary art centre of Quimper.