Current exhibition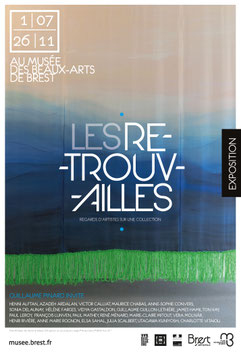 Reunions
1 July – 26 November 2017
Guillaume Pinard has been approached by the Musée des Beaux-Arts with a proposal to take the museum's collection and devise a series of possible combinations between works from the museum's reserves, the majority of which have never, or rarely, been exhibited before, and contemporary creative works. Invited by Guillaume Pinard,  ten artists will participate in a reinterpretation to make this exhibition a space of original experimentation.
You will therefore see the works of Henni Alftan, Azadeh Ardalan, Victor Calliat, Maurice Chabas, Anne-Sophie Convers, Sonia Delaunay, Hélène Farges, Vidya Gastaldon, Guillaume Guillon-Lethière, James Hamilton Hay, Paul Leroy, François Lunven, Paul Mathey, René Ménard, Marie-Claire Mitout, Vera Molnár, Guillaume Pinard, Henri Rivière, Anne Marie Rognon, Elsa Sahal, Julia Scalbert, Utagawa Kuniyoshi, and Charlotte Vitaioli, along with a collection of Roman ex-votos from the 2nd century BC.
"It will be summer when the Musée des Beaux-Arts in Brest hosts this exhibition. I picture this building as a beautiful moonlit garden in which each of us can take the time to surrender ourselves, to make ourselves available to new encounters. I know that both our
emotions and our thoughts cannot be reduced to measurements of understanding, that the profile of one's life does not constitute the whole face, that each one of us, whether an artist in the museum's collection, an invited artist, a regular visitor or a visitor for just one day, will have special reasons for coming into this garden. Therefore, I do not wish to spoil this celebration with an agenda, nor guide you through it, but I simply wish to open the door to the pleasure of reunions." Guillaume Pinard.
The exhibition was organised in partnership with BASE, a project initiated by Documents d'Artistes Bretagne and the École Européenne Supérieure d'Art de Bretagne.