The exhibitions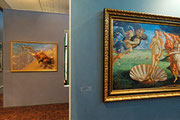 Temporary exhibitions set the tempo for the life of the museum, and are organised approximately three times a year.  They enable us to develop and focus on one of the collection's main strengths, to present works that are rarely seen, or to open the museum up to contemporary art works.
   
It is also an opportunity for the museum to work in partnership with other museums or cultural associations, such as the Brittany Regional Contemporary Art Fund.

Organised on monographic or thematic lines, and usually accompanied with a catalogue, the exhibitions offer visitors a continually changing vision of the museum and its collections.