Current exhibition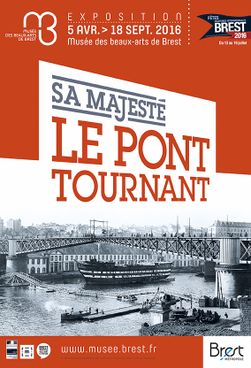 Her majesty, the swing bridge
Exhibition from 5 April to 18 September 2016
As part of Brest 2016 and to celebrate Brest's new cable car, this exhibition explores the representations of a work of Brest maritime art: the swing bridge. Also known as the Pont Imperial then the Pont National, this metallic structure built in 1861 and destroyed in 1944 linked the banks of Penfeld without impeding the passage of ships.
When painters, engravers and photographers turned their attention to the subject of the swing bridge, they did not simply depict a portrait: by claiming ownership of it, they raised it to the status of a monument. Photographers emphasised the monumental nature of its architecture - which was the subject of much debate at the time of its construction - from different perspectives, while illustrators and engravers attempted to magnify it using enhancive layouts. Initially praised as a new level of technical mastery, the bridge quickly became a tourist attraction. Postcards and souvenirs reflected this infatuation with a work of art that had become the symbol of the city of Brest.
Beyond the swing bridge, artists attested in their own way to the prominence of metallic constructions in art in general. This new aesthetic, which appeared in Brest in 1860 and spread within a decade, reconciled beauty and functionality.