Current exhibition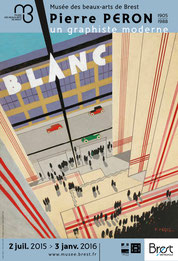 Pierre Péron (1905- 1988), 
a modern graphic designer
From 2 July 2015 to 3 January 2016
Though Pierre Péron is known as a painter as well as a Brest resident who was an ardent admirer of his city and its inhabitants, he is less known as a graphic artist. However, from his Parisian studio where he worked for years, he did design drawings, posters, engravings, and even carved wooden letters that translate the artist's creativity and originality.
His little-known posters are permeated with the spirit of the most innovative poster designers of the interwar period and express an exceptional freedom of tone and form. He created engravings for artists of the Seiz-Breur movement who called for a modern form of art inspired by Breton traditions. These engravings are as different from his posters as they are from his friends' engravings. Humour and poetry occupy a prominent place. He drew just as much inspiration from his supple and lively stroke when he designed typographies and when he worked as an illustrator. And when Hermès ordered patterns for their famous silk scarves from him or when Kelt entrusted him with designing jewellery, he worked vigorously on creating inspired graphic designs.
Guest curator: Fañch Le Henaff, graphic designer.
The exhibition was carried out in partnership with the Musée de la Marine, on the occasion of the Pierre Péron (1905-1988) At anchor!, exhibition presented by the Château de Brest.